Imagine a private oasis in your own home where you can listen to soft music, surrounded by fragrant bubbles. For many homeowners, a luxuriously modern bathroom is more fantasy than reality, it might be more accessible than you think! Here's what you need to know about how to remodel a bathroom.
Benefits of a Bathroom Remodel
Obviously, the main benefit of remodeling your bathroom is to create a relaxing space you can enjoy for years to come, but it can be financially beneficial as well. According to the National Association of Realtors' 2019 Remodeling Impact Report, a bathroom remodel can give you an amazing return on your investment. Reports have found that bathroom remodels can recoup up to 67% of the cost when you sell your home. 
Updating your bathroom can also save you money on your water bill—and help Mother Nature. You can replace old, leaky faucets, swap out full-flush toilets for water-conserving versions, and install energy-efficient hot water heaters.
Tips for Your Bathroom Renovation
Before jumping right into the project, there are a few things you should consider, before you start swinging any hammers. Bathroom remodeling requires a a lot of determination, working knowledge of DIY approaches to tiling, painting, and installation (if you plan on doing some of the work yourself), and a lot of patience. After all, a full bathroom remodel doesn't happen overnight. 
Consider the Budget
First, you'll want to consider your budget. Make a list of everything you want to change and the cost of each Some things to consider are:
What you want to replace and what you want to keep
The type of wall coverings you'll use, like paint, wallpaper, shiplap, or tile
Lighting and light fixtures
Showerheads, faucets, tub and shower finishes
Accessories, like towels or rugs
Remember, bathroom remodels often cost more than anticipated, so do your research thoroughly before you dive in. The National Kitchen and Bath Association recommends that a bathroom remodel should cost no more than 10% of your home's value. They advise the following cost breakdown:
29% of the budget for fixtures and plumbing
21% of the budget for labor
21% of the budget for surfaces and countertops
16% for cabinets and hardware
As a rule of thumb, you should budget between $15,000 and $20,000 for a full bathroom remodel. It's also not a bad idea to add a little extra padding to your budget, just in case something goes wrong—because it probably will!
Pick Your Colors and Theme Beforehand
Another important part of the pre-planning process is to pick a theme and color combination. Picture your dream bathroom and determine what elements are best for your taste and your budget.
The options may seem overwhelming, but when you research your likes and dislikes before you start choosing fittings, fixtures, or wall coverings, making decisions will be much easier.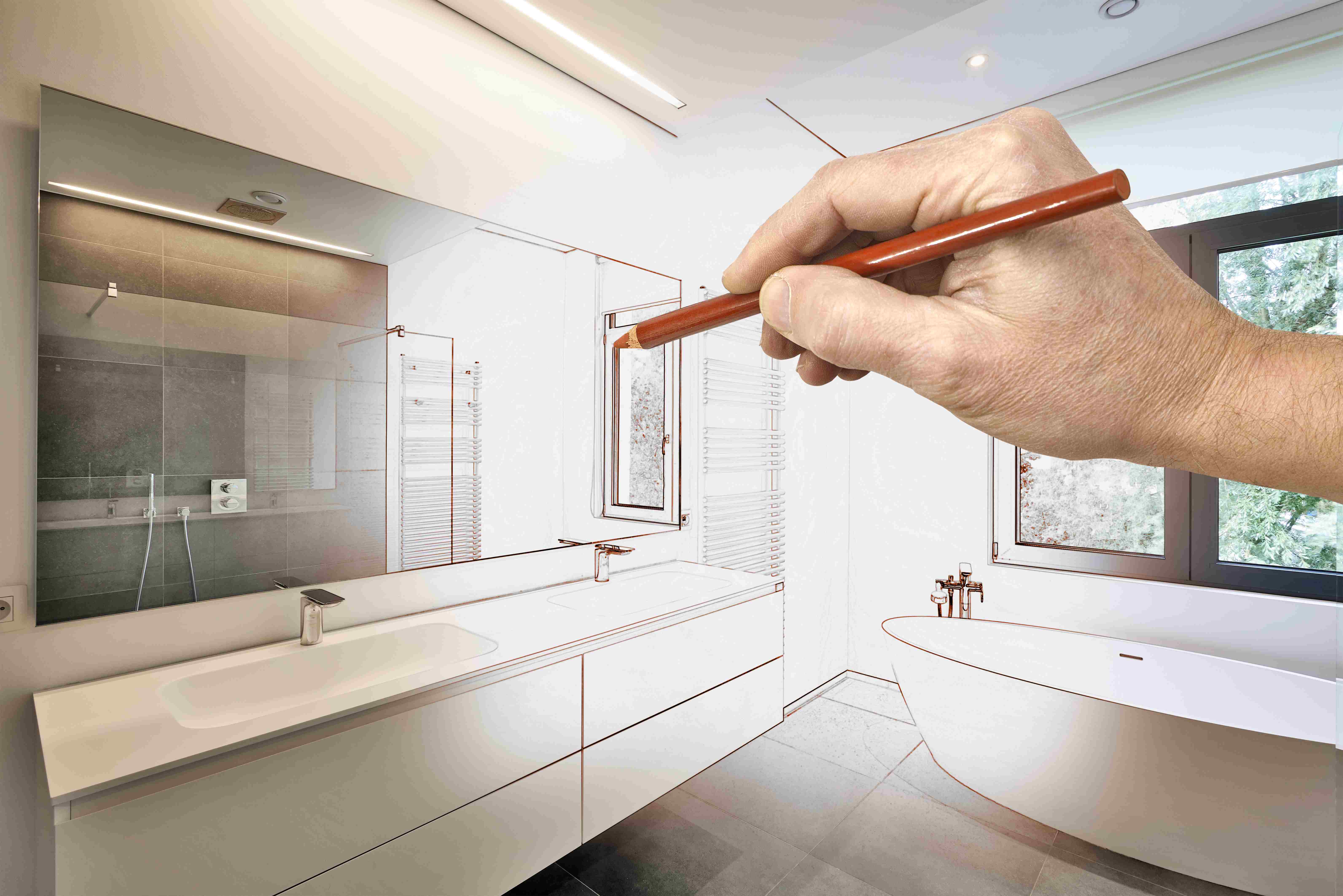 One trick to narrowing down your preferences is to look through blogs, magazines, and even Pinterest to find styles you love. Save the pictures to your computer or phone, and when you've chosen a few, go back and look at what you've collected. You'll likely see some trends.
How To Remodel a Bathroom in 4 Phases
Once your budget and plan are in place (and you've decided who gets to use the bathroom first), here are the four phases you'll go through to complete the project:
Phase One: Bathroom Demolition
If you've ever wanted to take out your aggressions, demolition day is the perfect opportunity. This is the part where you get to remove everything you don't want anymore—and you don't have to be gentle about it! But remember that safety should always come first.
These tips can prevent your demolition from turning into a disaster:
Plug the waste pipe when you remove your toilet to keep sewer smells out of your home
Turn off the water to your bathroom
If you have to remove insulation, don't use a hammer; instead, cut out panels and remove them carefully
Always wear a safety mask and gloves
Remove the baseboards along with the flooring
Once you've removed elements that you want to replace it's time to move on to the most time-consuming—and potentially frustrating—part of how to remodel a bathroom.
Phase Two: Plumbing and Wiring
If you're doing a DIY bathroom remodel, it's a good idea to keep existing plumbing and wiring. That's the hardest, and most expensive, part of any remodeling project. If you have to (or really want to) move plumbing or wiring, you should always have an expert on-hand to make sure nothing goes wrong.
If you're planning to DIY your bathroom plumbing, here are a few tips that can save you trouble (not to mention water damage):
Find the main shut-off valve and sewer line access points, just in case you need to access them in an emergency
Be extremely careful when you're drilling or hammering around your pipes; a hole in your piping can end up costing thousands of dollars
Don't ignore leaks; if you find a leaky faucet during your renovation, take the time to find a solution
Use caution when tightening pipe fittings; stripped screws are never fun
Plumbing and wiring are subject to safety rules and regulations, and some projects can be very complicated. Even seemingly simple projects like installing a new toilet could create havoc if you're unsure of the process. If you're even the slightest bit unsure about any part of the process, it's a good idea to call a professional. It's better to be safe than sorry!
Phase Three: Installation
When you're turning your old bathroom into a new space, the real fun starts during installation. During this phase, your new features and fixtures are positioned and connected. To help the project move along smoothly, consider installing bathroom elements in this order:
Insulation and drywall
Paint
Shower, tub, toilets and sinks
Vanity and cabinets
Flooring
Drywall installation and painting should start right after plumbing and wiring so that you can minimize the amount of paint that splatters on your brand-new fixtures. Tiling or other flooring installation will come last in this process, which allows you to fit the flooring securely around the other features. This will protect your walls and floor from moisture.
Although it's exciting, installation can also bring about disappointing surprises, like mold, water damage, or wiring issues. Try to stay flexible if you run into these issues. It's better to fix these problems when you find them instead of having to figure out how to remodel a bathroom all over again down the road.
If you're not a confident DIYer, it's a good idea to call an expert to help with installation of some of the more technical details. Some companies, like Jacuzzi, can professionally replace or update your existing tub or shower in just one day. They'll be in and out quickly, so you can keep moving with the project.
Phase Four: Decoration
After your materials are installed, it's time to add character to your space to make your dream bathroom a reality. Think about accessories that define the style of the room, including extra lamps or light fixtures, shelving, hardware, light switches, towel bars, and towels.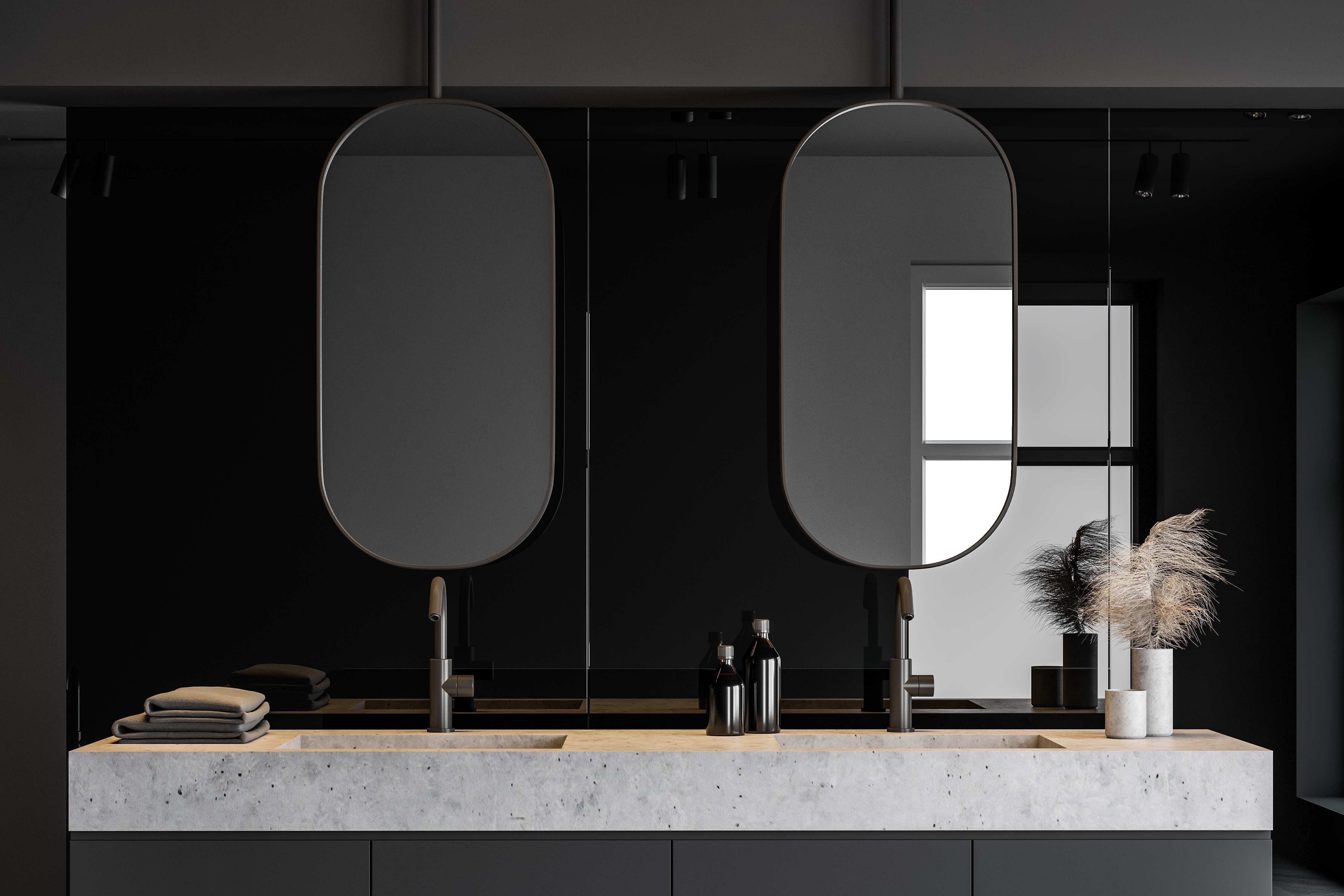 Beyond the standard accessories, consider these often-overlooked details that can make all the difference:
Vanity sets, including a soap dish and dispenser
Stylish toilet paper holder
Decorative storage
Eye-catching shower curtains
These additions don't have to be solely decorative. They can be functional too. For instance, decorative storage options like wicker baskets, mounted steel towel hangers, or hair tool storage nooks can make organization a part of your bathroom's style.
If you don't have the budget to install all the decorative touches right away, you can always add them over time.
Enjoy Your New Bathroom
Deciding how to remodel a bathroom can be costly, stressful, and time-consuming, but it can also help you transform your home into the private oasis you've always dreamed of—and increase your home's value at the same time! By following these tips, you'll be soaking in that bubble bath in no time!
Looking for more renovation inspiration? Check out our blog for advice and design ideas. And while you're there, don't forget to subscribe to get the latest posts!

Need a little help on your next home project? Tell us a little bit about your needs and we'll help you to connect to high-quality contractors!