Your bathroom should be a place of peace and serenity, but it can't live up to its true potential if it feels aged and outdated. Bathroom remodels are a popular way to add a touch of luxury to your life, at a cost. The average bathroom remodel costs a whopping $10,922!
But just because you're not ready to spend five figures doesn't mean you have to live with a dingy bathroom forever. There are ways to give yourself that perfect spa-like oasis you've always dreamed of without breaking the bank. Here are a few tips to remodel your bathroom on a budget.
Set Your Budget (and Stick to It)
The first step to remodeling a bathroom on a budget is to decide how much you actually want to spend. This will be your guide as you travel the winding path that is a renovation project.
It's generally suggested to keep your bathroom remodel budget around 5 to 10% of your home's value (or less). For example, if your home is worth $250,000, don't let your bathroom remodel go beyond $25,000. Remodeling your bathroom will add value to your house, but if you spend too much, it'll be hard to recoup the costs.
Create a Detailed Plan
The key to staying on budget is to go into the project with an plan. One of the most expensive things you can do during any type of remodeling project is to change course halfway through. It might be tempting to "adjust the plan" if you find super cute drawer handles or floor tiles that you just have to have. DON'T DO IT! The key to staying on budget is to show some restraint when it comes to making adjustments.
To avoid costly audibles during the project, create a detailed list of everything you want to do to your bathroom before you buy anything. Think about what you can't stand and write out a list of what you want to change, complete with pricing for each list item. The more detailed, the better!
Once you've compiled your list, sort items into "must-haves" and "nice-to-haves." This will help you make decisions if you need to cut something out of the project.
Add up the cost of each item on the list and compare it to your original budget. According to Consumer Reports, your budget breakdown should look something like this:
Labor – 20%
Cabinetry and hardware – 16%
Fixtures – 15%
Faucets and plumbing – 14%
Countertops – 7%
Flooring – 9%
Doors and windows – 4%
Walls and ceiling – 5%
Lighting and ventilation – 5%
Design fees – 4%
Other – 1%
If your plan goes over budget, start cutting some of your "nice-to-haves" until you get to a number you're comfortable with.
As with any remodeling project, it's a good idea to leave some wiggle room in the budget, just in case. Things happen. When you remove your old vanities, you might find some water damage underneath. That's going to have to get fixed, and if you don't have a contingency in place, you're almost guaranteed to go over budget.
It's not a bad idea to put aside 5 to 20% of your total budget as a rainy-day fund. In the best-case scenario, nothing goes wrong and you have a nice little chunk of change to spend on decorations once the project is over—or, the more boring option, put back into your savings. Worst-case, you can fix issues that pop up without breaking your budget. Either way, it's a win-win!
Don't Change the Existing Bathroom Footprint
If you really want to remodel your bathroom on a budget, stay away from expensive changes. That sounds obvious, but it's the key to keeping your project under that five-figure mark.
The most expensive things you can do during a bathroom remodel is changing the footprint of the room. These include changes in any of the following items:
Foundations
Walls (especially load-bearing walls)
Plumbing lines
Electrical wiring
For example, swapping out light fixtures isn't a big deal. You're not changing how the wiring runs through the wall, just the hardware the existing fixtures connect to. However, if you want to move the toilet from one side of the room to the other, you'll need to tear up the floor and replumb your bathroom so the water and sewer lines work. That's a huge, labor-intensive project. Aka. super expensive!
There's a lot you can do to change the entire look of your bathroom without altering the room's footprint, like paint, new fixtures, and different cabinets. If you absolutely need to make footprint changes, keep them to a minimum if you want to stay on budget.
DIY What You Can
As you can see from the earlier breakdown, labor is the most expensive part of any bathroom remodel job, taking up 20% of the entire budget. So, if you want to remodel your bathroom on a budget, doing things yourself can help you keep costs low.
Of course, DIY only helps you save money if you know what you're doing. If you need to do something drastic like reroute plumbing lines, it's much more cost-effective to get a pro to do it. Attempting to DIY something you're not confident with leaves room for costly errors that you'll have to fix later.
With that being said, there are tons of projects that most homeowners can handle themselves. These are some of the easier jobs you can tackle to cut labor costs on your bathroom remodel:
Painting
Tiling
Installing accessories like towel racks and toilet paper holders
Replacing showerheads and faucets
Installing new light fixtures
Even if you don't know how to do something on this list, there are tons of resources available to help you pick up the home renovation skills. You might not be confident enough to replace your facets now, but after a quick YouTube video, you'll be ready to save $65 per hour in labor!
Even if you need to hire a contractor, you can still get everything ready by helping with the demolition. It doesn't take much skill to break down and remove cabinets or shelving if it's all going to be replaced anyway. Just make sure there aren't any water or electric lines in the way before you start swinging sledgehammers.
Salvage Instead of Replace
Doing some of the projects yourself can go a long way in cutting labor costs during a bathroom remodel. But you can also save money on materials by reusing existing pieces instead of replacing them completely.
You might think your dirty, dingy bathtub needs to be replaced. But why spend a couple hundred dollars (if not thousand) on a new tub or shower when you could spend $80 on a refinishing kit? You'll get the same brand-new look at a fraction of the price!
It might take some elbow-grease, but you can completely change your existing bathroom elements without spending a bunch of money with a few easy tricks:
Sinks – Isn't it crazy how expensive sinks are? They're just bowls that hold water! Luckily, you don't have to buy a brand-new sink to completely change the look of your bathroom. A simple faucet swap can give you the change you're looking for at a fraction of the cost of a completely new sink. Even if there are a few cracks in the porcelain, you can get a repair kit at any hardware store or online for around $15.
Toilets – A new toilet can cost upwards of $100 or more. Why not save some money and just swap out the seat and lid? A different colored lid can give your bathroom a completely different feel. Upgrading to a soft-close model will also add that touch of luxury you've been looking for without the "luxurious" price tag. You can find toilet seat and lid combos for around $30.
Showers – You might think your shower needs to be retiled, but you'd be surprised what a thorough cleaning and some new (possibly colored) grout can do. If you have a fiberglass or acrylic shower, you can fix minor dents and cracks with a $20 repair kit, instead of paying for a brand-new enclosure.
Bathtubs – A professional cleaning can remove rust from just about any tub, and it won't cost as much as replacing the tub completely. Even if you have a few cracks or dents, you can refinish cast iron, porcelain, or fiberglass tubs with an $80 DIY kit. Even hiring a professional to refinish your old tub will cost less than a brand-new model.
Floors – If you have tile floors in your bathroom, you can give them the same treatment as your shower with a thorough scrubbing and perhaps some new grout to transform the entire space without paying for a complete retiling. Hardwood floors can be professionally refinished for around $3 to $8 per square foot. Considering new hardwood floors cost anywhere from $12 to $20 per square foot, that's some serious savings!
Walls – You don't need to knock down walls to change your space. A fresh coat of paint or some wallpaper goes a long way to create the bathroom of your dreams. If you have tiled walls, a through cleaning and some fresh grout can have the same transformative effect. If you want a complete makeover, add some beadboard over the tile to give your walls a different look without completely removing the existing walls. Plus, you can always go back to tile if you feel like it down the road.
Cabinets – New cabinets can get expensive quick. If you want to save a few bucks, try a fresh coat of paint. You can also swap the hardware or doors while keeping the cabinet boxes to save yourself a few hundred dollars.
Get Creative with Paint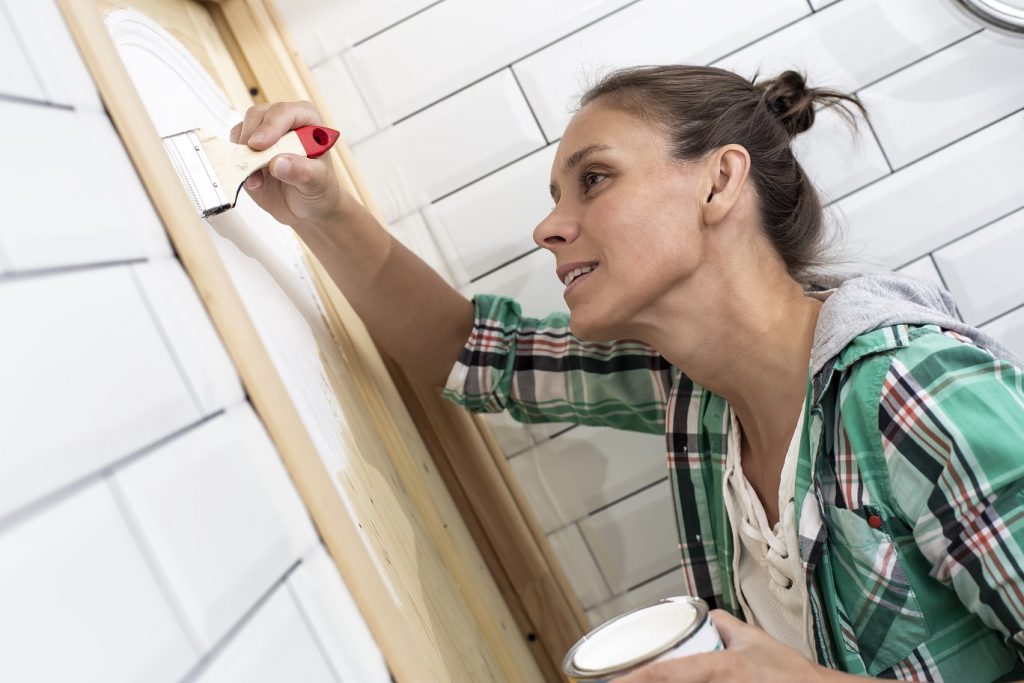 Paint is cheap, immensely versatile, and can make a huge difference to transform any space. If you want to renovate your bathroom on a budget, getting creative with your paint choices is a great way to pull it off!
Choosing a unique color can go a long way to change the look of your bathroom, but you can do a lot more with paint than simply roll a solid color on the wall. Here are some creative ways to paint your bathroom:
Textured effects – Use tools like sponges, rags, or even combs to give your paint a textured look. You can easily create a cool stucco effect for a fraction of the price of actual plaster.
Patterns – There's no rule that says you have to pick just one color of paint. Grab some painter's tape and make some lines or patterns all over your bathroom. This is a great way to add a splash of color without overwhelming the space.
Painted tile – If your bathroom walls are covered in tile, it doesn't mean you can't use paint to transform your space. As long as they're not anywhere damp (like in the shower or tub), you can paint tiles by cleaning and then scuffing them with sandpaper. Apply a coat of water-based acrylic primer to accept the paint and then go to town! Painted tile retains the texture of the tile but can completely change the color of your bathroom for an inexpensive transformation.
Refinishing fixtures – Paint isn't reserved for just walls; you can use it on your fixtures, too! Spray enamel paint on your old bathtub to give it a quick and inexpensive updated. You can also change the color completely for a unique bathroom centerpiece. You can even spray paint and lacquer your sink faucets for even more color.
With all the different types of paint available, there's not much in your bathroom that can't accept a splash of color. Getting creative with paint is one of the most effective ways to remodel your bathroom on a budget.
Use Cheaper Materials
It might not be what you want to hear, but you can always save a couple dollars by choosing cheaper materials for your bathroom remodel. This doesn't mean you should choose low-quality materials, but there are lower-cost alternatives for almost every material in your bathroom:
Walls
Tile is going to be the most expensive material you can use to cover your walls. To maintain your budget, use tile only in wet areas like in the shower or tub, and stick with painted drywall for everything else. You can still paint drywall into tile patterns (see tip above) but at a much cheaper cost.
If you absolutely need some texture on your walls, wood paneling is great for an interesting look at a much lower price.
Flooring
There are tons of high-quality, low-cost laminates available that look like just about any type of flooring you could imagine. You can get a strong, waterproof laminate that looks identical to a high-quality hardwood or ceramic tile for about $1 or less per square foot. Plus, it's easy to install yourself!
Tubs and Showers
If your tub or shower walls are beyond repair, the most inexpensive replacement is acrylic or fiberglass sheets. They are waterproof, look nice, easy to install, and cost about $100—which isn't much compared to more expensive materials like glass, stone, or tile.
For bathroom remodelers who absolutely need the fancier look of a tiled wall, ceramic or porcelain are great cheaper alternatives that can look just as good as the real deal. Choosing large tiles is also a great way to cut costs. You don't need as many to cover the space. Plus, you'll have less grout to clean. Win, win!
Designer tiles do look great, so if you need some high-end materials in your life, use them sparingly. Adding a small designer tile accent to your shower enclosure will save you money compared to covering the entire space. It'll also make the high-end tiles stand out.
It might not be the most glamorous option, but shower curtains are also much cheaper than a glass door. Not only are they cheaper, but they're also easier to install and keep clean. There are tons of shower curtain options out there. Pick a pattern that works with your newly remodeled bathroom.
As for hardware, you can save some money by buying everything as a set. Most hardware stores and online retailers sell tub and shower hardware sets that include the spout, showerhead, and handles for a discounted price.
While the shower trim sets aren't necessarily expensive, it's much cheaper to replace only what you need to. If your shower handles still look and function fine, just replace the showerhead. You can pick up a high-end showerhead with all the pressure and settings you could ever want for around $50.
Cabinets
Every bathroom needs storage, but cabinets can be expensive to replace. If you want a cheaper cabinet alternative that still looks great, why not go for open shelving? Open shelving is inexpensive, looks great in modern bathrooms, and is easy to install. All you need is a plank of wood and some wall brackets!
If you like your toiletries and towels behind closed doors, it's always more budget-friendly to go with stock cabinets. They might not be unique, but they'll help you stay on budget. Plus, you can fancy them up with a fresh coat of paint or unique hardware down the road.
It's tempting to go for thermofoil or laminate cabinets to save some money on materials, but they won't hold up. There's a good chance they'll warp over time and need replacing, which will cost more money in the long run. Stick with maple, oak, pine, or alder cabinets to get the durability without the price tag of more expensive woods like cherry, mahogany, or walnut. You can always stain your wood cabinets if you prefer darker grains.
Countertops
Stone countertops are the go-to for most bathroom remodeling projects. While it might look good, and its durability unmatched, it's also quite expensive. Choosing ceramic or glass tiles or even a laminate will be the most affordable options for your bathroom's countertop.
If you absolutely have to use stone, there are a few ways to get your high-quality counters without breaking your budget:
Go prefab – If you choose a standard-sized vanity, there might be prefabricated stone countertops available. Since they're not custom-made, you'll be able to save a few bucks and still get the stone counter of your dreams. Plus, it'll be pre-cut for easier installation.
Use tiles – Instead of using a slab, get marble floor tiles and cover your vanity. Tiles are much cheaper than a solid slab. If you use a grout that's the same color as the stone, you won't be able to see the gaps.
Find remnants – When suppliers cut custom counters, there are bound to be leftover pieces of stone. Some of these pieces might fit your vanities perfectly and, since they're leftovers, they won't cost as much as a fresh slab. Ask local suppliers if they have any stone remnants from other jobs, and they might be able to give them to you for a discount.
Keep edges simple – Fancy waterfall or ogee edges might look nice, but they're also very expensive to cut. If you want to save money on your bathroom remodel, keep your stone countertops simple with a plain bull-nose or beveled edge.
Lower grade – Stone slabs come in different grades. Higher-grade counters might have the least imperfections, but they're also the most expensive. Save some money by choosing a slightly lower grade slab. If the imperfections are in the center, you're likely going to cut them out for the sink anyway!
There are plenty of ways to save money on your countertops. Even if you want to use high-quality stone, you can still find ways to stay on budget with your bathroom remodel.
Toilets
Toilets come at a wide range of prices, which is funny considering they all do the same job. You can get a new toilet for anywhere from a couple hundred to a few thousand dollars! If you want to save money on your bathroom remodel, it's a good idea to stick with a standard, round, two-piece porcelain toilet.
Round toilets are cheaper than elongated toilets (they're made of less material), and two-piece toilets are easier to manufacture and ship, helping to reduce the price. Two-piece toilets are also easier to install and repair, making them a go-to for any budget bathroom remodeling project.
Whatever you do, avoid wall-hung toilets with a recessed tank. They might look sleek and save some space, but they're the most difficult (expensive) to install and repair.
It's a good idea to look into water-saving toilets for your remodel. They might cost a bit more up front, but they'll save you money on your water bills every month. Toilets are the most water-consuming appliance in your house, with some using five to seven gallons per flush! Low-flow toilets use as little as 1.6 gallons per flush. Over time, it'll more than make up for the slightly higher price tag.
Buy Used
One person's junk is another person's treasure. There are always people looking to remodel their bathrooms, and they might want to get rid of the exact things you need to finish yours. Buying used materials and items is a great way to keep your project on budget.
Shopping second-hand will take a bit more effort than picking something up at the store or ordering it online, but you might be able to find some outstanding, high-end pieces at a fraction of the price. It's a good idea to start looking for used materials immediately after you come up with your initial plan. It might take some time to find exactly what you need.
Keep a constant lookout online and in second-hand stores to find treasures to fill your new bathroom. Here are some of the best sources to find used materials:
eBay – There's not much you can't find on eBay. It's a great spot to find even the most niche items to fill out your bathroom. Just be careful when it comes to shipping. Bathroom items can be heavy.
Craigslist – Save on shipping and shop local with Craigslist. You can find all sorts of used bathroom items within driving distance, so you don't have to pay for shipping.
Facebook Marketplace – Similar to Craigslist, Facebook Marketplace is a great source for used local items.
Antique stores – If you're looking for unique items, antique stores are a great place to shop. You can find all sorts of vintage furniture and decorations to transform your space. Just be careful; some antique stores charge higher prices than other sellers, making it difficult to stay on budget.
Yard sales – You never know what you'll find at a good old yard sale. While they likely won't have the exact items you're looking for, you'll probably get a seriously good deal. Plus, you might find something you didn't even know you want!
You might also be able to find some great second-hand gear to use in your bathroom right in your own home. You might be surprised how that "junk" filling your garage, basement, or attic might work in your remodeled bathroom. Keep an eye out for things like paint and beadboard leftover from other home renovation projects.
Find the Right Contractor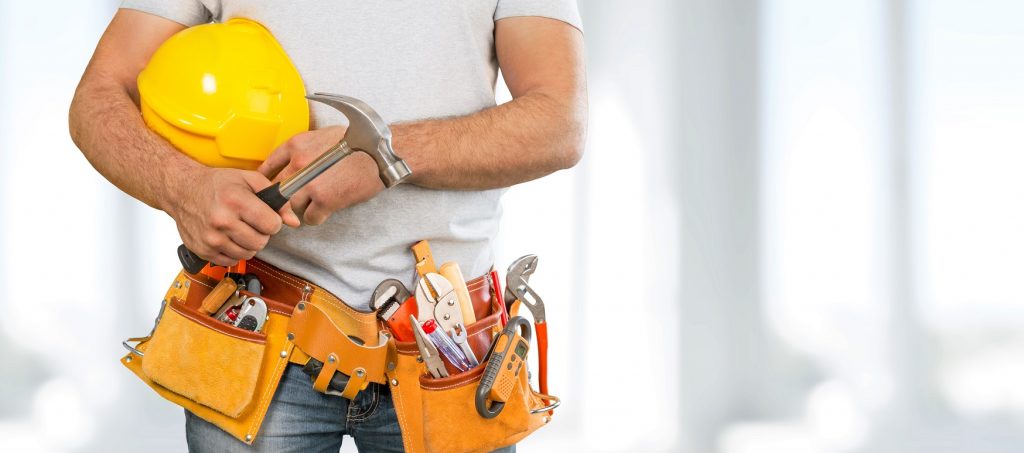 While you might DIY most of the project, there are some parts of a bathroom remodel that require a professional touch. Since labor is the most expensive part of any home project, it's essential to choose the right contractor.
You might think that if you want to remodel your bathroom on a budget, you should choose the cheapest contractor. That would make sense, right? While that might be the go-to thought, it's actually not the best way to save money.
Cheap remodelers are usually cheap for a reason. Either they're not trustworthy and just trying to grab up whatever project they can, or they don't have the experience to charge more money. In either case, there's a good chance your project won't turn out the way you want and that you'll have to make repairs or even completely redo the work in the future—neither of which are cheap.
The best way to stay on budget for any remodeling project is to take your time searching for contractors. Get a few quotes (not just one or two) and compare the prices.
You'll want to take a look at the contractors that end up somewhere in the middle. The higher priced contractors obviously won't help you stay on budget, while the cheaper contractors likely won't give you the quality work you need. The middle-priced contractors are the sweet spot for budget bathroom remodeling projects.
Don't forget to take a look at a contractor's website, social media, and online reviews before hiring. Taking a look at their previous projects can provide helpful insight into the quality workmanship they can bring to your bathroom.
To save some money, you can also hire a contractor or business to do a small part of the remodeling project. For example, Jacuzzi offers affordable tub and shower replacements that can be done in less than a day. Let them handle the complexities of removing and updating your shower area, and you can focus on other projects that require a bit less know-how.
Alpha Living can help you find the right contractor to suit your needs. Just tell us a bit about your project and we'll connect you with qualified professionals in your area!