Enjoying your perfect bathroom might feel like a dream, but planning the remodel can feel more like a nightmare. Bathroom remodels aren't always so straightforward. They take a lot of planning, effort, and money, so you want to make sure it's going to turn out exactly like your vision. To help the process go smoothly, check out these five tips for planning your dream bathroom remodel.
1. Set Your Budget
Bathroom remodels aren't cheap. The average homeowner will end up paying around $10,922 after all is said and done! If you don't want to spend that much, or perhaps if you want to spend more, it's important to set your budget before setting off on your remodeling adventure.
You'd be surprised how many homeowners start bathroom remodeling projects without a real budget. They say things like, "Oh, I'll just grab some new sink faucets, slap on a fresh coat of paint, and go about by day." Then, they head into the home improvement store and see all the pretty tile options for the shower, stylish laminate flooring options, and maybe some new cabinets. Before they know it, their bill is in the thousands of dollars when they really didn't intend to spend that much.
Before you even break the credit card out of your wallet, sit down and come up with a budget. What's the maximum amount you want to spend on your bathroom remodel? Break down your budget by component. List out all the changes you want to make and the price of each. Add it all up and make sure it's all within your budget.
Most bathroom remodeling budgets break down something like this:
Labor – 20%
Cabinetry and hardware – 16%
Fixtures – 15%
Faucets and plumbing – 14%
Countertops – 7%
Flooring – 9%
Doors and windows – 4%
Walls and ceiling – 5%
Lighting and ventilation – 5%
Design fees – 4%
Other – 1%
Having a clear budget before you start will help you make decisions during the remodel and make the process go much more smoothly. You'll be able to decide on the fly whether you can afford that little piece that catches your eye in the home improvement store without breaking out the calculators and spreadsheets in the aisle—or worse, finding an empty bank account balance after the project is finished.
Include a Contingency
Home improvement projects don't always go to plan, so it' s important to add a contingency to your budget in case anything goes wrong. You don't want to rip up your current flooring only to find a bunch of water damage on your subfloor. Not only is that a headache to repair, but you now have to spend money fixing that instead of buying those cool mirrors you saw at Home Depot.
Most experts suggest adding a 5 to 20% contingency to any budget. If your total budget is $10,000, set aside around $1,000 for "surprises." The bigger the project, the higher your contingency should be. Full bathroom remodels (especially if you're moving water lines) should have closer to a 20% contingency, while minor changes like swapping cabinets or paint can be closer to 5%.
Yes, a contingency lowers your budget to actually do things, but it's always a good idea to have one. Worst case, you can fix any problems that show up and still have your dream bathroom. Best case, no problems show up and you now have some extra spending money for those cool decorative touches or to put back into your bank account. Either way, you're a winner!
2. Research the Latest Styles and Trends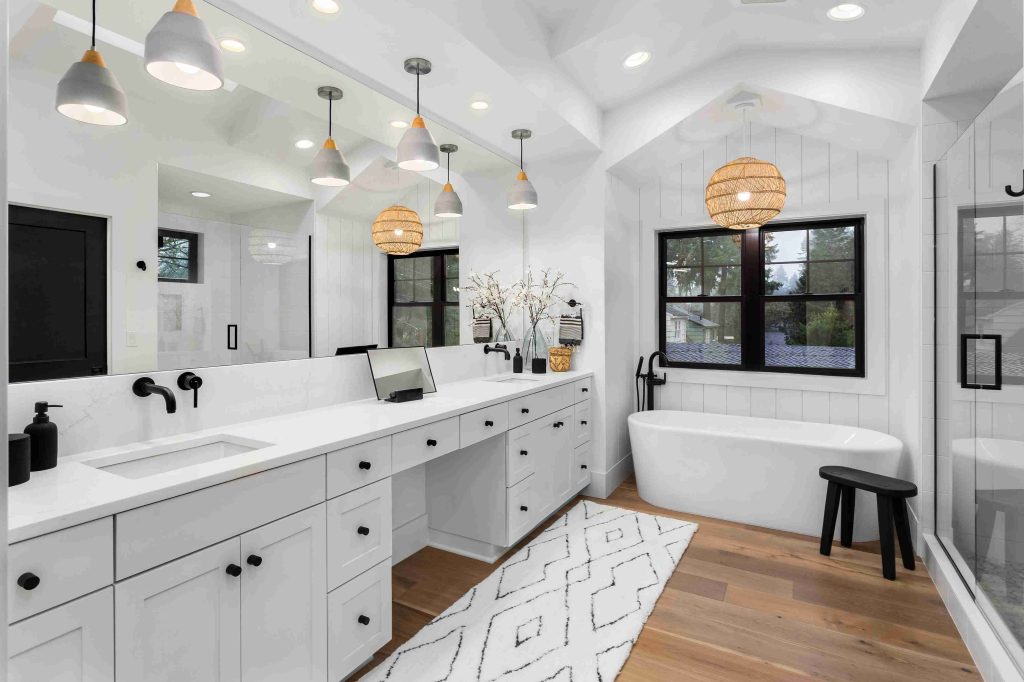 If you're spending so much time and money on a bathroom remodel, you want to make sure it turns out as dreamy as possible. That means there should be a cohesive style that goes across the entire space. You might know you like farmhouse faucets and tile floors, but how can those two items work together to give your bathroom the perfect look?
Before diving into any home improvement project, it's important to get inspired. Dive into the latest styles and trends in the interior design world to find a style that fits your unique tastes. Look through resources like trade magazines, TV shows (lots of HGTV), and websites to see what speaks to you.
If you find a piece you love, like those farmhouse faucets you just can't live without, going to the manufacturer's website can provide you with inspiration about how to build your entire bathroom around that style. They might have a picture of that faucet complete with the perfect farm-like bathroom wrapped around it. They might even have links to other products to help you complete the look.
It's dangerous to start shopping without a real plan about style. You could end up with a hodgepodge of different styles all over your bathroom that don't really blend. A disjointed bathroom isn't a relaxing space and can look plain silly. Find a style you like before doing any work and build your remodel project around it. It's the best way to create a unified, relaxing, incredible-looking space.
Looking for inspiration on your next project? Renovators Blog is a great place to start! Check out our blog for décor and design tips, along with much, much more!
3. Plan Ahead
For any home improvement project, the devil is in the details. No matter how "quick and easy" your bathroom remodel might seem, it's always a good idea to start with a detailed plan.
Before your credit card even comes out of your wallet, you should have a complete idea of everything you want to buy, change, and do for your bathroom, along with any considerations that might pop up along the way.
As you're building your budget and doing style research, keep a running list of everything that catches your eye and the associated price (don't forget about installation costs if you need to hire a pro). If you see a cool tile design you just have to have, find out what it costs per square foot and do the math to find the total price for your space. If you don't want to lay tile yourself (or aren't sure how), remember to include labor. The average installation cost for new flooring is around $6 to $10 per square foot.
Once you have your list, categorize each item into "wants" or "needs." You probably need to replace that crusty old showerhead, but those fancy light fixtures probably fall into the "want" category. If you end up going over budget—or if an expensive issue arises and you need to make some tough decisions—you can cut a few of the "wants" without hurting the essential parts of your project.
Your remodeling list will be your roadmap to creating the perfect, relaxing bathroom of your dreams.
4. Think About Efficiency and Usability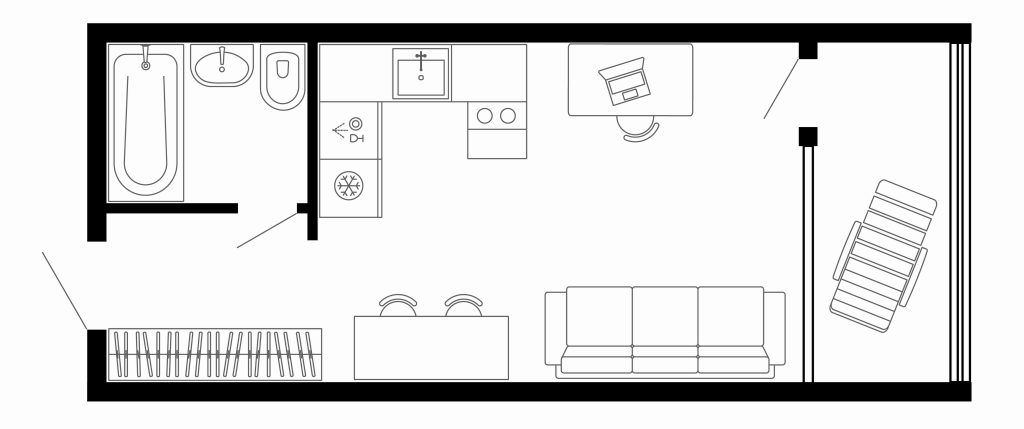 Thinking about paint colors and coming up with neat designs might be fun, but it's important to remember that your bathroom isn't just a pretty face; it needs to be functional, too! Those waterfall faucets definitely look cool, but do they have the water pressure you need to rinse the toothpaste off your toothbrush in the morning?
When planning your dream bathroom remodel, keep usability and efficiency in mind with each step of the process. It's a good idea to think about the future, too. Your bathroom needs change as you age. Build a space that can function through the years with ease. Design your bathroom to be as functional and practical as it is beautiful.
Layout
The first step to creating a usable bathroom is planning the layout. You want your bathroom to be functional and easy to use. Have you ever been in a bathroom with the toilet paper holder on the other side of the room from the toilet itself? Talk about a stretch! Or maybe you've been hit in the back with the door while washing your hands at the sink? To avoid these common problems, think about your ideal bathroom layout before starting any work.
When designing your bathroom layout, there are two essential questions to keep in mind:
Who will use the bathroom?
How will they use the space?
How you answer these questions will provide a ton of insight into how you should lay out the bathroom.
For example, if you're remodeling a shared bathroom (like for your kids), plan a layout that can be used by multiple people at the same time. Double sinks and pocket doors to hide the shower and toilet are great for avoiding early-morning bathroom drama. Two people can brush their teeth and wash their faces at the same time someone else is in the shower. Everyone has their own space and privacy.
If you're doing a master bathroom remodel, you might not be as worried about privacy and efficiency as you are about comfort and luxury. You and your significant other will likely be the only ones to use the bathroom, and you want it for ultimate relaxation. Planning enough space for that double shower and spa-like soaking tub might take precedence over a wall with a pocket door.
For homeowners looking to remodel their bathroom on a budget, it's a good idea to keep your existing water fixtures where they are. Moving water lines is one of the most expensive things you can do in any remodeling job. If you can't change the water lines, half of your bathroom layout is already designed for you.
If you do have the budget to move water pipes, think about how they can all come into the room efficiently. Putting your sinks, toilet, and tub or shower on the same wall is a great way to limit the cost of plumbing installation.
It might sound technical, but it's always a good idea to break out the grid paper (or computer software of choice) and sketch your bathroom layout. Make sure everything fits and think about how it'll function. Don't forget to include the door and how it opens into the room!
If you plan on living in your home for years to come, also think about how you can use the space as you age. Consider things like wider doorways and walkways, higher toilets, and curbless showers.
Before you swap things around too much, be sure to consult with all local regulations, including the International Residential Code (IRC). Your bathroom won't be so relaxing if it comes with a bunch of fines!
Lighting Plan
Light is incredibly important in the bathroom, but it's often overlooked. How are you going to fix your hair or do your makeup if you can't see anything!? When designing your dream bathroom remodel, be sure to consider how you want to use light in the space.
There are four types of lighting you can use to fill your bathroom:
Task – Lighting used to illuminate workspaces. In the bathroom, the vanity is the most important workspace. Choose lighting that provides lots of illumination with a wide spread to avoid shadows and create an optimal work environment.
Ambient – This lighting creates the overall mood. Soft, diffused light is great in a bathroom setting to create a natural, relaxing glow. Place ambient lighting like recessed fixtures or diffused lightbulbs consistently throughout the space. Ambient light is great for in the shower, too.
Accent – Accent lighting adds dimension to the space. Shine brighter lights on items you want to show off, like plants or artwork. It draws the eye and breaks the even ambient lighting to give the space more depth.
Decorative – This lighting is completely for fun. It adds the "wow factor" to your bathroom. Think about fixtures like candlestick-like wall sconces or colored LEDs under the counters to add interest to the space.
No bathroom works with just one type of lighting alone. You'll need at least task and ambient lighting to illuminate the space properly, even in small bathrooms. Accent and decorative lighting are optional. They're best for creating unique spaces, like in the master bathroom.
Your bathroom remodel plan should include a lighting plan. Think about what type of lights you want to install and their location to create the perfect environment for your needs. Remember, lights need power. You might need to run additional wires to get the lights where you want them, which could add to your budget.
Shower and Tub
One of the most heavily used areas of any bathroom is the shower and/or tub. It's not just for rinsing off; it's where you can go to relax after a long day.
When designing your dream bathroom, think about the same two questions you asked when planning the layout: Who's using the space, and what are they using it for? This will help you choose the tub/shower design that best suits your needs.
For example, if you're remodeling a small, shared bathroom, your priorities are likely going to be all about efficiency. A small shower in the corner will help to save space and still give users a comfortable environment. If you have kids (or a pet), a shower/tub combo might be the best option for versatility.
Master bedrooms typically don't need a bath. The only people using it are adults who shower almost exclusively. Choosing a nice, large shower with multiple heads might be more comfortable than the shower/tub combo to create that spa-like experience. Of course, if you have the space, why not throw in a dedicated shower and a soaking tub? It's not like you're going to have kids splashing around to ruin your private space.
Flooring Materials
Flooring is another bathroom design option that's more than just a pretty face. Yes, you want to choose a material that looks good, but it also needs to feel good.
If you live in a cold climate and don't like cold feet in the morning, perhaps tile isn't the right choice for you. If you're on a budget, laminate flooring can look just as good as some high-quality materials but at a much cheaper price.
You should also think about how the bathroom will be used. Kids tend to make messes. If you're remodeling a kid's bathroom, be sure to pick flooring material that's easy to clean.
No matter what type of flooring you choose, make absolutely certain it's water resistant. Even if you're the most careful bathroom user on the planet, there's a lot of water in a bathroom. From small drops getting out of the shower to major leaks like if a toilet overflows, you want to make sure you're covered in case of a mess.
DO NOT PUT CARPET IN YOUR BATHROOM! This was a trend back in the day, but it wasn't even a good idea back then. It might feel good on your bare feet in the morning, but you don't want to know about all the moisture, mold, and other gross things it can soak up (especially around the toilet). If you really want to feel some softness under your feet, add some cleanable area rugs or bathmats.
5. Find the Right Bathroom Remodeling Contractor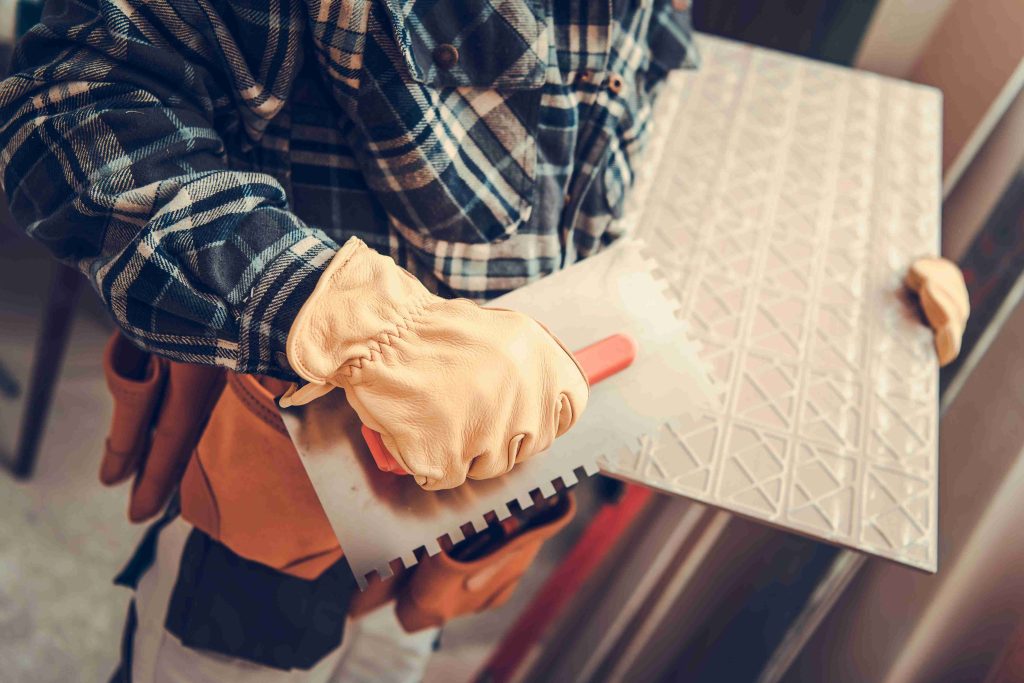 Home improvement projects are tough, and it always helps to have a professional on your side. While it might be easy to call the very first contractor you find from a quick Google search, taking your time and doing the research is one of the best tips for a smooth bathroom remodel.
Not all contractors are equal. Some might have more experience, dedicated specialties, or provide better customer service than others. Either way, the key to a seamless remodeling project is to choose the contractor that best suits your needs.
Take the time to find the best professional for the job. Check online reviews, ask your friends and neighbors, and look through all the websites. Build a list of potential contractors that seem like they'd be a good fit.
It's also a good idea to collect at least three quotes before selecting your contractor (if not more). Then, immediately throw out the lowest. Yes, you want to save money on your remodeling project, but the lowest quote is typically the lowest for a reason. You want to find that perfect balance of quality and affordability, so choose a contractor with a quote that lands somewhere in the middle of the pack.
Once you have a few contractors that with good reputations and reasonable quotes, take the time to talk to each one individually and ask for referrals. This will give you an idea of how knowledgeable and responsive they are. Then, call each referral and ask about quality of work, whether they stuck to the timeline, and if they were easy to work with.
A bathroom remodel is a big project that will hopefully last for years to come. Doing a little work upfront to find the perfect contractor is worth it for years, if not decades, of enjoying your dream bathroom.
Complete Your Dream Bathroom Remodel
There's a lot that goes into a complete bathroom remodel. From the inspiration and design to materials and contractors, it can be confusing to make the right decisions. Luckily, our Homeowner resources section is here to help through every step of the process.
We keep up with the latest remodeling trends to provide insights and inspiration for any home improvement project. Tell us a bit about your project here, and we'll help you find qualified contractors in your area!