Bigger isn't always better. Sometimes even the smallest alterations can change your space drastically. Your bathroom is likely one of the smallest spaces in your home, but that doesn't mean it's any less important. Luckily, you can make big changes to create the space of your dreams with a few minor improvements.
If you're considering a remodel but don't want to go all-out, here are a few small bathroom remodel ideas that will make a big difference.
1. Change Your Fixtures
Your fixtures are those little accents you don't realize make a huge difference until they change. Even something as simple as swapping out your cabinet knobs can drastically change the overall appearance of your bathroom. The best part is that it's relatively inexpensive, too!
Changing out your fixtures is one of the best small bathroom remodel ideas for anyone on a budget. Here are a few of the fixtures you should consider replacing:
Lights
Lighting is a major part of any bathroom experience. Nobody wants to take a nice, relaxing shower in a dingy, dimly lit dungeon. Not only does the lighting itself give the room its ambiance, but the fixtures can also lend color and style to the overall theme and feel. Even replacing the lightbulbs to something softer or brighter (depending on your preferences) could be enough to completely change the space.
Luckily, light fixtures are simple and cheap to swap out. You can find replacements at just about any home improvement store or online retailer for under $100. Of course, there are more expensive options out there, but you don't have to break the bank to find replacement light fixtures to transform your space.
Once you find the perfect lights to match your bathroom vision, they're also simple to install yourself, saving you some money on the remodeling job. Just make sure you turn the power off at the breaker (not just flip the switch) before you start disconnecting any wires. The entire process should take only an hour or two, meaning you can knock this project out in an afternoon and still have time for some couch-sitting.
Faucets
Your faucets and water fixtures play a major role in your bathroom's appearance. Swapping them out to a different color or style can completely change the look of the space, without much time or effort. Choosing a tall farmhouse faucet will look much different than those low-slung chrome faucets you've had since the '90s.
Not only will swapping out your fixtures change the look of your bathroom, but it's also functional. Different faucets and water fixtures have different flow patterns. Some might have more pressure or a wider pattern, while others could have a relaxing waterfall feel to them. Imagine washing your hands under a soft waterfall or bathing under a soothing rain showerhead. You can make your bathroom feel as good as it looks!
Similar to the light fixtures, faucets and water fixtures are also relatively cheap. Although there are high-end replacements for $500 to well over $1,000, you can easily pick up decent water fixtures for under $100. They're also easy to install without much prior experience required. Most water fixtures come with installation instructions right inside the box.
Hardware
Bathroom hardware like your cabinet knobs, towel bars, and toilet paper holder are those little accents that can really impact the look of your bathroom. You might not think something so small would make a big difference, but they can—and on a budget, too!
You can pick up complete bathroom hardware sets with the towel bar, hooks, toilet paper holder, and hand towel rack for under $100. Choose a set that's relatively the same size as your current hardware, and you should be able to easily swap them out without drilling new holes or really any remodeling experience whatsoever.
Swapping your cabinet hardware is another small bathroom remodeling idea you can do without spending much money or any prior DIY experience. If you choose a style that's similar to your current hardware (don't switch from knobs to bars, for example), it should be as easy as unscrewing your current knobs and screwing in the new ones.
2. Lay Down a New Coat of Paint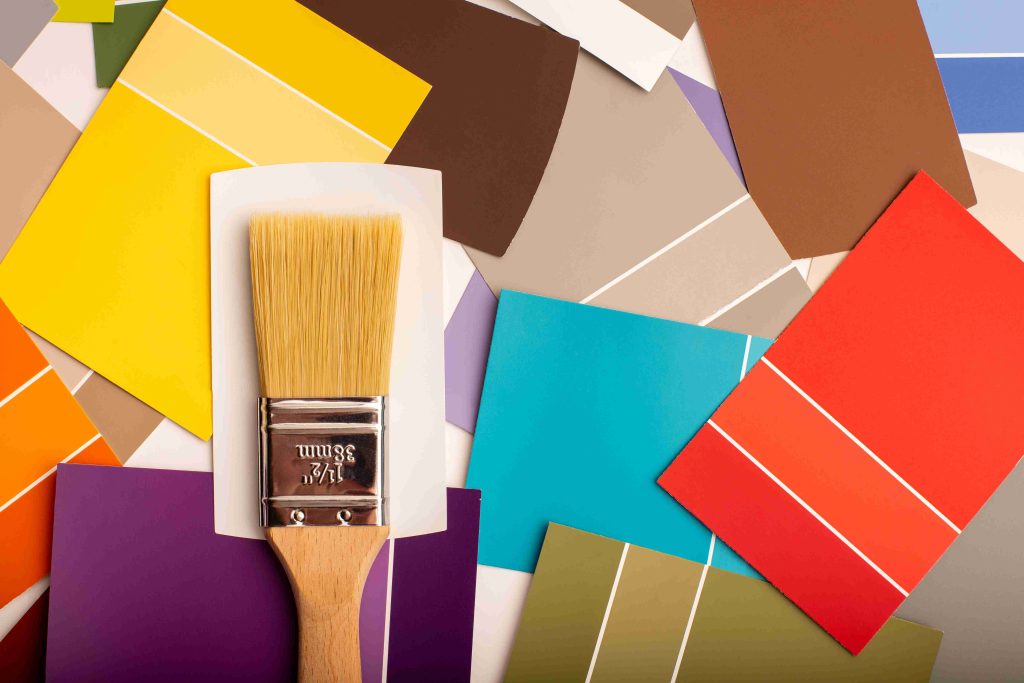 Paint is likely the first thing you see when you go into your bathroom. It's the foundation for the style of the entire space! Because it has such an impact on the look of your bathroom, choosing a new color for your bathroom walls can make a massive difference with a couple dollars in resources and a few hours of work.
A gallon of paint costs between $15 and $30 on average, and a bathroom should need only a gallon or two to cover the entire space. Plus, it doesn't take any special skills to paint a few walls. Just make sure you tape over any edges where you don't want the paint to run and cover your floors and countertops. Beyond that, grab a brush and start painting!
Not only is paint inexpensive, but it's also endlessly versatile. Yes, you can paint your bathroom a solid color, but if you really want to make your bathroom stand out, try to think outside of the box. Maybe paint only one wall a bright color and leave the rest a neutral color? You could also use patterns like stripes or lines to add some texture to the walls. There's no limit to what you can do with a few gallons of paint.
No matter what artistic flair you decide to add, repainting is one of the most effective small bathroom remodel ideas from both a creative and cost standpoint.
3. Update or Add Decorations
Just because it's a bathroom doesn't mean it's all utility. There's nothing wrong with adding a few decorative touches to the room where you take a shower and wash your hands.
There are dozens of decorations you can add to your bathroom to give your space some extra style. The only limit is your imagination! Here are some decorative touches to supply a healthy dose of personality to your bathroom:
Paintings and other art pieces
Plants (fake ones are good for a splash of color without the maintenance)
Rugs and floor coverings
There are also many things you can do with mirrors to transform your space. Every bathroom needs a mirror. How else are you going to make sure you look presentable before heading out for the day!? But mirrors aren't just for checking your hair; they can also be used to decorate your bathroom.
There are countless small bathroom remodel ideas that you can do with mirrors. Mirrors make any room feel larger, which is ideal for smaller bathrooms. Nobody likes to feel cramped! Think about getting a larger mirror over your sink to really expand the space. You can also add a few smaller mirrors on other walls to expand the room in all directions. You might not physically increase the square footage, but it'll certainly feel like it.
Adding a backlight behind your mirror is another great way to add a touch of luxury to your bathroom experience without the luxury price tag.
4. Get Creative with Storage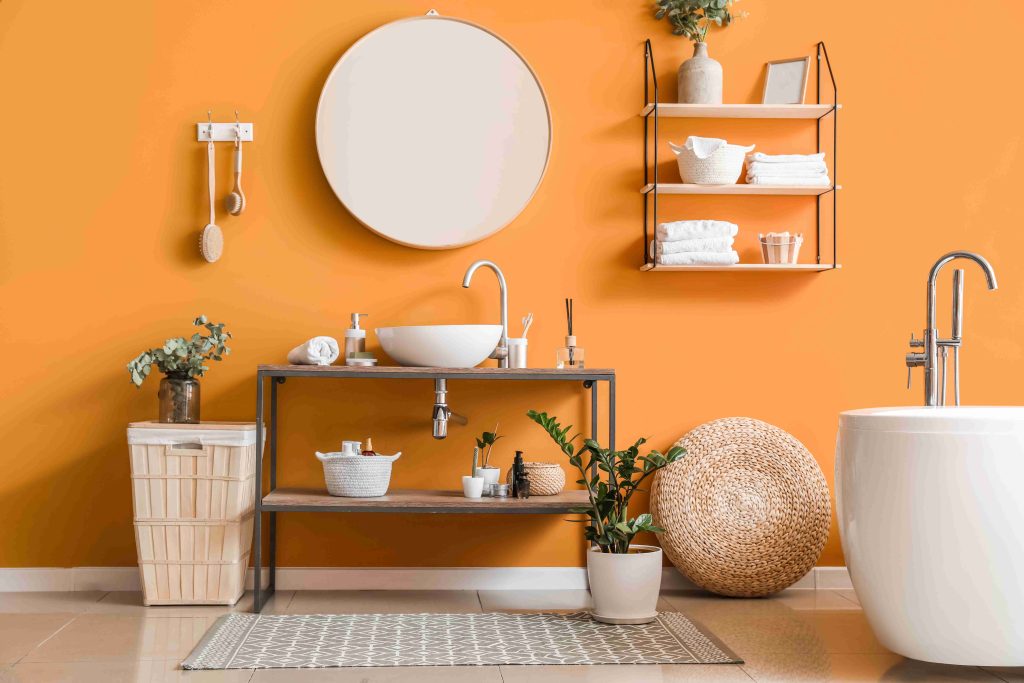 Everyone needs a place to hold their towels, extra toilet paper, and cosmetic gear, but who said that space has to be boring? Getting creative with your storage can do wonders to completely transform your bathroom and make it more functional at the same time.
Adding some floating shelves can help break up the monotony of a solid-colored wall. Instead of staring at one color, you can have shelves with your colorful towels, candles, or other decorations. It'll hold your stuff and look good doing it!
Putting some trays around your sink (if you have space) is also an easy and inexpensive way to add a touch of color to your otherwise boring countertop. Choose trays with colors that compliment your bathroom's style or pick something bold for a highlighted accent. Then, put colorful bars of soap and other toiletries on the tray to mix storage abilities with decorative charm.
Crates, boxes, and baskets are also great ways to add some decorative touches to your bathroom while increasing your storage space. Toilet paper might not be the most appealing thing to look, but putting it in a nice wicker basket will help make your bathroom look more appealing.
5. Swap Out That Old Bathtub or Shower
Your bathtub or shower is the centerpiece of your entire bathroom. It's where you go to unwind and relax after a long day. That's why it needs to be perfect for your style!
You might think replacing an entire bathtub or shower isn't a "small" bathroom remodel idea, but it's actually much easier than you think. Some companies, like Jacuzzi, can replace your entire bathtub or shower in just one day. For an affordable price, you can swap out that old bathtub or shower for a brand-new model that will completely transform the look and feel of your space.
Ready to Remodel Your Bathroom?
You don't have to go big to get the home of your dreams. There are countless small bathroom remodel ideas that can transform your space without the time, money, or effort. Updating your fixtures and bathroom hardware can do wonders to change your space without breaking the budget, and you'd be surprised what a few coats of paint can do. With a little creativity and some elbow grease, you can have a bathroom to be proud of.
If you're looking for even more renovation inspiration, check out some of our homeowner resources for helpful advice and design ideas. Tell us a little bit about your project, and we can even help you find qualified contractors in your area!